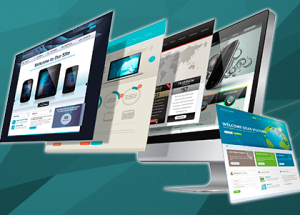 The digital culture, little by little, takes shape around the world. But the small business, even knowing this, don't have the amount of money necessary to invest in a catalogue website or an e-Commerce because of the high cost, even when they know the advantages they bring. But that doesn't mean the business can't invest in digital presence, and start to build a value and acknowledgement in the digital ambience has a name: institutional website.
What is an institutional website?
In simple words, it would be some sort of business card in the digital ambience. All companies that, in the past, had an website, being big or small, had an enormous advantage then its competitors, since it gave the option for consumers contact the company through contact form (by e-mail). But now days this is not a privilege any more. Having a website is not just a necessity, now needs to have quality content so that the users can find the website through out search engines, like Google.
The greatest advantage of having a institutional website is it's price. Consumers may not have the possibility to see a full catalogue of products or have the advantage of buying direct from the site (like how it happens in a e-Commerce, for example) but an institutional website is the first step, and can generate new leads and a opportunity to brand your company in the digital ambience.
Advantages of having a institutional website
Increased branding range reach
Telephone and other contact options for the possible future clients that access the company website
Possibility to work on digital marketing, like promotional banners in your site homepage
Low cost
Possibility to inform company history and its credibility, client list and services.
Blog creation to post quality content, becoming reference in the digital ambience
Creates digital presence.
With a institutional website, you not only increase geographical reach (even if your enterprise only attends a specific region) of your company, but gives you the opportunity to present your brand, its history, and much more. And, of course, to have a contact page to acquire new leads and information like the physical store address and phone.
For those who sell services and need to create digital reference to increase its services geographical reach, an institutional website is perfect for the job. If you add a blog attached to the website, with quality content, the web site can become a reference, even being a institutional one. That usually happens when we use some techniques, like SEO for example.

It's always important to work with companies specialized in website creation, that uses the best platforms to create the institutional websites, like WordPress, making your site a Google friendly one with good usability for the users.
With this tips, you don't have more excuses to be out of the internet any more! Don't stay behind competition and become a reference in the digital ambience and start to sell more!